Frank Vogel is a fan of Josh Okogie, and has been for years now.
More than three years ago, Okogie was in Chicago for the 2020 NBA All-Star Game. He was still a second-year player on the Minnesota Timberwolves at the time, and as he took an elevator down, none other than Vogel — the coach of the eventual champion Los Angeles Lakers — stepped onto the elevator with him.
Okogie didn't really know Vogel, so he stood in silence. Vogel broke that silence.
"He just goes to me and says, 'Love your game. You're tough.' And just walks out the elevator," Okogie recalled with a laugh.
Okogie politely thanked him and didn't think much of their exchange after that. More than three years later, during Okogie's free agency process, the newly-hired Vogel was part of the conversations to get him to re-sign with the Phoenix Suns.
"To have that full-circle moment, and he was like, 'I always wanted to coach you, even four, five years ago,' and to be here now under him, I think that's a cool kind of special little moment right there," Okogie said.
Entering the new season, Josh Okogie will compete for the fifth starting job under the same coach who led LA to a title in his first season — and now hopes to do the same in his first year in Phoenix. We took an in-depth look at expectations for Okogie earlier this summer, but with some new intel from Media Day and training camp, it's time to examine his case to be the Suns' fifth starter.
Vogel is still a fan of Josh Okogie's defense
Although the Suns almost have an entirely new roster and coaching staff, Vogel said there haven't been too many surprises so far in training camp. He and the front office spent the summer — even before free agency — studying the players they would eventually add, and Vogel's familiarity with the intangibles Okogie brings to the table made re-signing him a priority.
"I love his game, I do," Vogel said. "I told him that years ago, and I think I told him that yesterday as well, just as a little reminder of that elevator meeting. I just love tough-minded, athletic dudes that play extremely hard, play with a high motor. Those guys change games."
It makes sense for a defensive-minded coach who promised his team would play "scrappy as hell" to be high on someone like Okogie. This is the same guy who's already gathering Jordan Goodwin and Saben Lee into a group chat for the team's "pit bulls" on defense: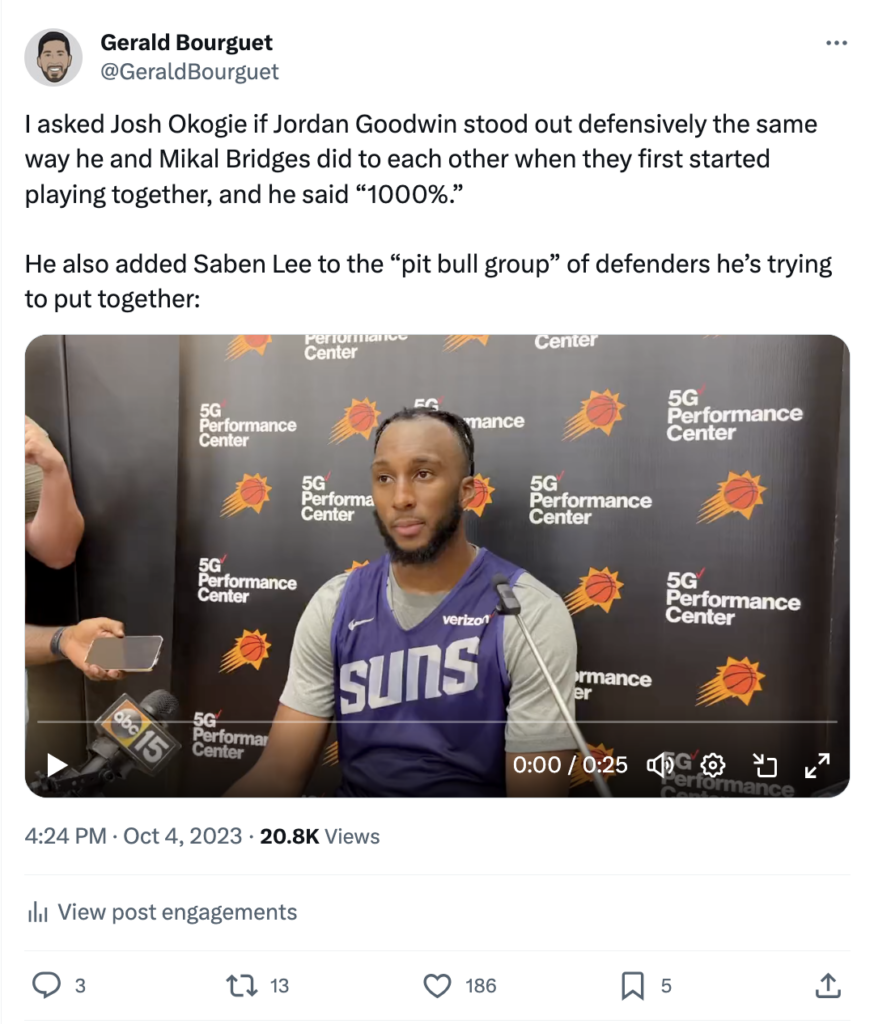 Back when he first met Vogel, Okogie was still playing for Tom Thibodeau, and defense took up 75 percent of those practices. Okogie said playing on this Suns team takes him back to those days, joking that "nothing pumps coach Vogel up like some defense."
Vogel's message to his team on day one of training camp made it easy for he and Okogie to find common ground, even if it was delivered in a slightly different manner than Thibs.
"I'd say coach Vogel is like half-and-half," Okogie explained. "He's like that sweet tea and lemonade mix. He has the attention to detail element that Thibs is gonna have and he has that approach of Thibs, but he also understands we want to preserve everybody's legs. So he does his in a very effective and efficient way where everybody gets the point, everybody gets the message, but we're not killing ourselves at the same time."
Devin Booker and Kevin Durant have been setting the tone defensively for Vogel, but it's easy to see why, over the course of an 82-game season, the Suns might prioritize point-of-attack defense so that Booker and Bradley Beal don't have to worry about covering guards like Stephen Curry, Ja Morant or De'Aaron Fox on a nightly basis. Okogie certainly checks that box.
"I love what he can do as a point-of-attack defender," Vogel said. "He seems to be able to strip anybody that he wants to strip, and he has great hands."
The numbers back those assertions up. According to The BBall Index, Okogie checked out as an elite defender in numerous categories last year:
On-ball perimeter defense: 99th percentile
Ball-screen navigation: 98th percentile
Off-ball chaser defense: 97th percentile
Deflections per 75 possessions: 91st percentile
Steals per 75 possessions: 91st percentile
Passing lane defense: 89th percentile
Pickpocket rating: 79th percentile
Considering Okogie spent the majority of his time guarding point guards (77th percentile), primary ball-handlers (77th percentile) and shot creators (79th percentile), he fits the bill of what Phoenix might prioritize with its fifth starter.
The eye test backs up the type of defensive ball hound he can be, and how that chaos creates extra possessions:
It wasn't just steals and deflections, though. Josh Okogie was a sneaky-good rim deterrent, holding opponents to 3.6 percent worse shooting at the rim and ranking in the 93rd percentile in rim points saved per 75 possessions.
On the perimeter and the interior, he put together some astonishing highlights as a shot-blocker, utilizing incredible anticipation and a 7-foot wingspan to meet shooters at the peak:
What's scary is these freak-of-nature defensive plays come naturally to Okogie. In middle school and AAU, he played for defensive-minded coaches. In high school, defense once again came first in practice, as his coach would put two five-pound dumbbells on the players' arms and have them do defensive slides across the court. The defensive mentality continued under Thibs when he first entered the league.
Now, a player who spent years actually working on his defensive skill-set gets to play for yet another defensive-minded head coach. It's almost instinctual at this point.
"It was always something that I've worked on, not necessarily because I wanted to, but because that was the kind of environment that I was always put in, and it just helps with your instincts," Okogie said. "Because a lot of stuff even with basketball, when you cross over, you're not thinking about crossing over, it's just how the defense plays. Your instincts tell you to do the moves that you work on. Defense works the same way."
Josh Okogie is a candidate for 5th starter
Ironically enough, it took only one season in Phoenix for Okogie to become one of the longest-tenure Suns on this year's roster.
"People be looking at me like I'm a vet of the team now," he joked. "And I'm like, 'I'm still figuring out my street names.'"
Brief as it's been, that continuity with Booker and Durant may help give him the slightest of edges. Then again, most of the Suns have been in Phoenix for weeks to participate in pickup runs, giving Okogie — and every other candidate for the starting job — a chance to build chemistry with Bradley Beal and the rest of the group.
On day one of training camp, all signs pointed to Okogie getting reps with the starting unit, including a potential slip of the tongue from Beal when talking about defensive communication.
"Bigs are more or less like quarterbacks, so as long as they're loud, talking to us, then us guards — me, Book, JO or whoever it is — we have to get into the ball and get the rest of the defense set," Beal said.
On Thursday, Vogel pushed back on the idea that he's settled on a fifth starter.
"Yeah, we haven't really had five set guys out there," he said. "We've looked at a lot of different combinations, Kev, Brad and Book were all on different teams today. Still looking at a lot of combinations."
This backs up what Vogel promised at Media Day, when he said training camp will offer players a chance to win their jobs, but that he'd also like to try out different lineup combinations over five- or 10-game stretches of the season. With so much positional versatility, it makes sense to mix and match different groups to see what does and doesn't work before the playoffs roll around.
That means that even if Okogie is the starter for the Suns' first preseason game on Sunday (or even their season opener in a few weeks), Vogel may continue to explore his roster and tinker around with the starting five. Okogie's rhythm was thrown off last year when he went from being the fifth starter after the Durant trade to coming off the bench in the first round of the playoffs, but he said all the right things about being willing to do whatever his coach asked of him.
Going from Monty Williams — someone he got close to during their year together — to Frank Vogel, Okogie remains consistent on that front.
"My approach is just control what I can control, which is how hard I play, how I push the game, what I can do on the court," Okogie said at Media Day. "That's ultimately coach's decision. I can't do anything about that, but training camp starts tomorrow, and I gotta just go out there and do what I do. Let the chips fall where they may."
The 3-point line is Okogie's proving ground
Everyone knows Josh Okogie is a tenacious defender, but it's the offensive end of the floor where he'll need to prove he can be an asset with this starting lineup.
There were some encouraging signs last year. He was an unrelenting force crashing the glass, ranking in the 99th percentile in offensive rebounding conversion skill. On a Suns team that rarely got to the rim or the free-throw line, Okogie placed in the 66th percentile in drives per 75 possessions and 92nd percentile in drive foul drawn rate.
Phoenix also used him more frequently as a screener and roller as the season went on, and Okogie fared well, ranking in the 83rd percentile in drive assist rate. The addition of Jusuf Nurkic shows how much the Suns value passing when their screeners catch the ball in the short roll, especially since their Big 3 are likely to see double-teams as ball-handlers in those kinds of actions.
Okogie is aware of what he needs to do to fit in with this group, saying at Media Day that the next evolution in his game is just learning to make the right play every time. His new head coach summed it up pretty well a few days later.
"How he runs the floor, how he attacks off the bounce and how he crashes the boards is also going to help us as well," Vogel said.
However, the biggest drawback to Okogie's case is his 3-point shot. The 25-year-old isn't a finished product by any means, but he's still a career 29.1 percent shooter from long range. He had never shot better than 30 percent in a season until last year, when he made a career-best 33.5 percent of his triples. He only made 31.5 percent of his corner 3s, which is where he'd get most of his attempts with the starters.
For a two-month stretch last season, it looked like Okogie might have turned the page as a shooter. Unfortunately, it proved to be unsustainable:
October-December (32 games): 12-50 3P (24% on 1.6 attempts per game)
January-February (20 games): 28-66 3P (42.4% on 3.3 attempts per game)
March-April (20 games): 26-81 3P (32.1% on 4.1 attempts per game)
It got even worse in the playoffs, when shot attempts and minutes became more limited. Maybe being benched took the wind out of his sails, but Okogie went 2-for-14 from deep in the playoffs, including 0-for-6 from the corners in Phoenix's second-round matchup with the Denver Nuggets.
The Suns shot 22.4 percent as a team from the corners in that series, ultimately dooming their offense. Even with their new Big 3, Phoenix might struggle to create adequate spacing if defenses can just ignore Okogie like Denver did.
At NBA Summer League, Okogie told PHNX Sports he was working hard on becoming a better 3-point shooter.
"Just looking back, that was probably my best year shooting the 3-ball, and I just want to keep getting better," he said. "I want to be better at that. I didn't start off this season doing well at all, in terms of the 3-point line. I'm working hard on it now, but if I can have how I played in the latter part of the season, play that [way] in the beginning and kind of sustain that throughout, I think that I'm gonna be good."
How good remains to be seen. On a new-look roster, rotational minutes aren't promised, let alone a starting job. But thanks to his defensive prowess and one longtime fan who's now coaching the Suns, Josh Okogie has a legitimate elevator pitch for both.
Get Arizona's Best Sports Content In Your Inbox!
Become a smarter Arizona sports fan with the latest game recaps, analysis and exclusive content from PHNX's writers and podcasters!
Just drop your email below!