Phoenix Suns preseason is finally over, and now we wait for the real deal to begin next Tuesday.
But before we stare ahead to the Suns' regular-season debut against the Golden State Warriors, we have to take one last look at the preseason that was, capped off by Thursday's 123-100 win over the Los Angeles Lakers.
Phoenix was unexpectedly missing Devin Booker (rest) and Bradley Beal (back), who were late scratches after coach Frank Vogel had said on Wednesday that he planned to play "most" of the main guys. But Kevin Durant was able to get some burn in, facing off against LeBron James for the first time since Christmas Day of 2018.
Even better, the Suns got another look at their underrated depth, with multiple role players and bench guys fighting to prove they deserve a spot in Vogel's rotation. So without further ado, here are three observations from the Suns preseason finale.
1. Kevin Durant: Not washed!
The overreactions to the first six minutes of a preseason game where Phoenix was missing two members of its high-powered Big 3 almost made one yearn for the days when preseason basketball wasn't televised. But after that initial rough patch, KD and the Suns turned things around on both ends.
In his first NBA game (sort of) against LeBron James in almost five years, Durant got off to a slow start, shooting 1-for-7 out of the gate. But then he ignited, going 7-for-7 in the second quarter to finish his night with 21 points on 8-of-14 shooting in 17 minutes by halftime.
It was almost amusing how fast the 35-year-old Durant went from being called "washed" on Twitter to finishing as the game's leading scorer in less than 20 minutes of action. He's always been able to quietly fill up the stat sheet, especially since arriving in Phoenix, but with Booker and Beal out, he enjoyed a pretty loud second quarter.
Hitting a turnaround bucket over a smaller defender? That's normal for the Slim Reaper. Hitting that defender with the "too small" gesture after the fact? That's just good fun that tells us Durant is as ready for the regular season to start as everyone else.
Let's run this one back same time next week.
2. Drew Eubanks provides reassurance
Those first six minutes were rough on Jusuf Nurkic. Aside from starting the game 0-for-5, the opening possessions on the other end highlighted some of the defensive concerns Phoenix will have to contend with this year.
There were multiple examples of Los Angeles attacking him in the pick-and-roll, slipping pocket passes or alley-oop lobs right past him. It wasn't for a lack of effort on Nurk's part; it's just one of the weaker areas of his game.
Fortunately, there was some consolation to be found in Drew Eubanks' performance off the bench. The backup big posted 7 points, 9 rebounds, 6 assists, 2 steals and 1 block to fill up the stat sheet in his 16 minutes of action, shooting 3-of-4 overall and finishing as a game-high +25.
Sure, plus/minus can be a flawed stat, and that's especially true for preseason basketball, but Eubanks looked great on both ends. Offensively, he filled the Nurkic role well by finding cutters with smart passes — something coach Frank Vogel has said he's comfortable with Eubanks doing.
"I like the ball in Drew's hands," Vogel said. "We don't want him to overthink things and do too much, but we want to be able to play through our bigs where it's not just Book, Brad, KD pick-and-roll. We want to be able to get off of it and move these guys, play in space, get bodies off of us, and our bigs will have to be able to make plays.
We also can't forget his submission for tonight's highlight of the game, a nasty poster dunk over Rui Hachimura:
Defensively, Eubanks snagged 9 boards in 16 minutes, didn't commit a single foul, and got UP to challenge shots around the rim. His proclivity for dunking on people on one end and swatting shots on the other is not new information, but it's still a delight to witness in action.
Well, unless you're Christian Wood:
At practice on Wednesday, Bradley Beal was asked if he remembered a certain highlight dunk he had over Eubanks last year, to which Beal confirmed, grinning, that he remembered it and would never let Eubanks live it down.
However, Beal, then gave some insight as to Eubanks' mentality as a shot-blocker and why he admires it so much.
"That's what I love about guys like that," Beal explained. "They're gonna jump every single time. They don't care if they get dunked on once, twice, three times, like, they're gonna keep jumping. Drew's athleticism, I wish I had it. So trust me, keep jumping."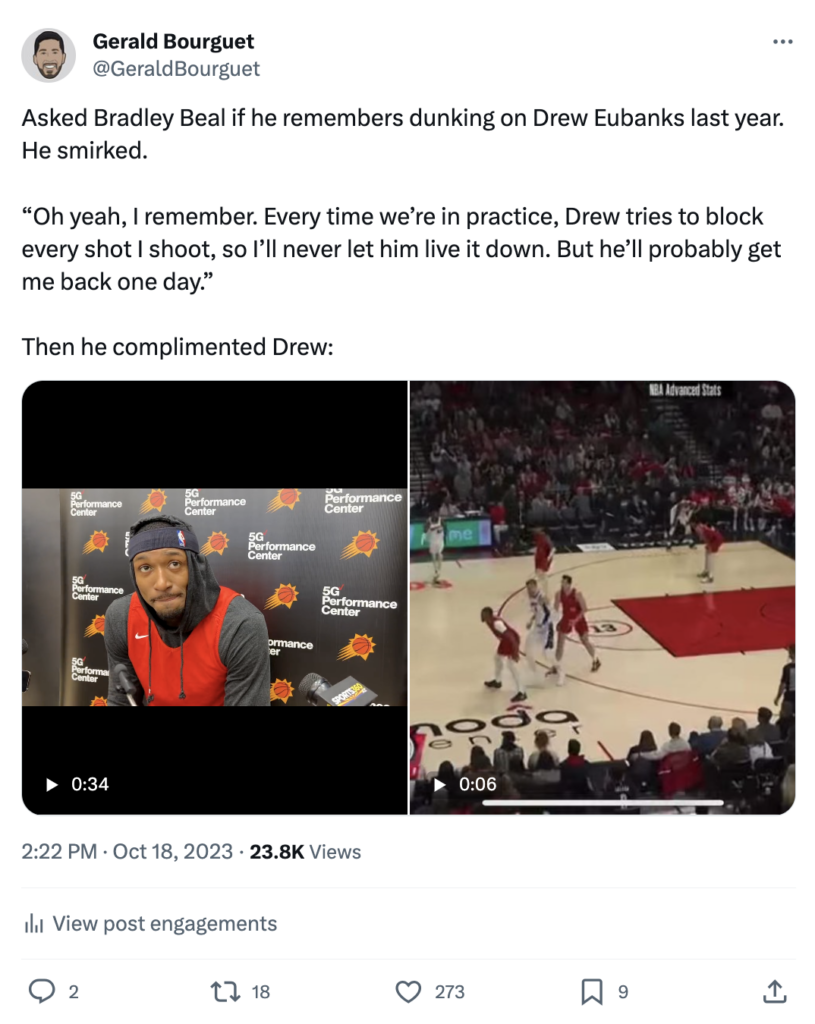 It's something Phoenix might need if Nurkic can't close games out, and from the looks of it, Eubanks doesn't plan to stop jumping any time soon.
3. Nassir Little finds himself in Suns preseason finale
Through the first four Suns preseason games, Nassir Little had scored a grand total of 19 points in 84 minutes. He shot better than 40 percent from the field just once, and failed to reach double-digits in any of those games.
Thursday night was his most promising display yet, as Little put up 11 points and 4 rebounds in 21 minutes, shooting 5-of-7 from the floor and 1-of-2 from long range. It wasn't a superstar performance by any means, but the 23-year-old wing finally showed how he could make an impact by doing the little things on defense and playing with confidence on offense.
Little spent the first four years of his career with the same team, battling nagging, unlucky injuries. It'd be understandable if it took a little while for him to get acclimated to his new surroundings, teammates and coaching staff.
But if Little's play on Thursday is sustainable, and if Chimezie Metu's 3-ball is really real this time, and if Keita Bates-Diop gets in on the action offensively, no one should envy Frank Vogel's task of putting this 10-man rotation together. Inevitably, one, two or even three very capable players are going to be on the outside looking in.
Get Arizona's Best Sports Content In Your Inbox!
Become a smarter Arizona sports fan with the latest game recaps, analysis and exclusive content from PHNX's writers and podcasters!
Just drop your email below!