Coyotes president and CEO Xavier A. Gutierrez conducted 10 separate interviews on Thursday afternoon and evening. The hope was to explain in detail what the franchise is doing with its new television partnership — and to answer a host of questions raised by media and fans.
The Coyotes announced a four-year deal with Scripps Sports to air free games to the Arizona and Utah markets beginning this season. Per the news release, 81 of the team's 82 games will be broadcast over the air on ABC 15 Channel 15.2 (KNXV.2), the Antenna TV network (with an antenna). As you can imagine, there were a lot of misconceptions about that deal, including the decimal point in that channel and the word "antenna."
I spoke to Gutierrez for 45 minutes on Friday evening in an attempt to provide more clarity and depth to Coyotes owner Alex Meruelo's initial Q&A.
Let's have some fun at the start: Will I need to climb on my roof and install an old-school antenna to watch Coyotes games?
Gutierrez: "No (laughs). If you go to Best Buy and buy a television and you just program it to 15, the next channel is 15.2. It goes 15.1, 15.2. That's an automatic that you get it over the air. We haven't done that in so long that I think it's just going to be a reeducation process, but it isn't very complicated."
To clarify, if you are accustomed to simply streaming on your TV, you can still buy a plug-in antenna, switch outputs and you're good to go, right?

Gutierrez: Absolutely, and it's very cheap. That's going to be part of our marketing program that we're going to be getting out there and giving folks free antennas. That was really important to Alex. That idea really came from Alex saying, 'Hey, listen, let's make sure that we focus on people knowing where the channel is. Number two, if we have to give away free antennas, this is important for Coyotes fans so we're going to do it."
How did this deal come about?
Gutierrez: "We obviously were under contract with Bally's, but when the Suns moved on from that relationship and then really when the Diamondbacks also moved on, we felt we might be left with a situation where we couldn't have our games on the air. We were operating under very strict legal constraints and we did not want to do anything to circumvent the power of the bankruptcy court so we approached Bally's and said, 'Hey, listen, we'd like to have informal conversations with other potential partners in case you choose to formally move on from the Arizona market.' They allowed us to have those conversations. They said it all had to be very informal. There was nothing that could be exchanged in terms of terms or certainly no agreements made. So we began to sort of assess the landscape (once Diamond Sports Group LLC submitted a motion and proposed order to reject the team's telecast rights agreement in bankruptcy court, the Coyotes were able to move forward).
"The NHL league office had been phenomenal throughout this entire process. I really tip my hat to Commissioner [Gary] Bettman and to [NHL Senior Executive Vice President for Media and International Strategy] David Proper, who has just been incredible when it comes to this. Very early on, he began convening the 12 NHL teams that all had partnerships with Bally's and began talking about the bankruptcy and giving us information from the legal side and the operational side. There was concern towards the end of last season that Bally's may not continue to produce and show the games so they had to come up with a last-minute emergency plan for all the teams. This has been a conversation going on for a while.
"We started with one premise that was very important to Alex Meruelo: What was the solution that was going to be best for our fans, for our fans in waiting and for our corporate partners to access the games, to have the furthest reach, to create the largest footprint in order for folks to enjoy not only the games, but really the content, the stories and the narratives around us as a club and as an organization? It became very clear that that Scripps really was the right partner for us.
"We were really impressed with the commitment that Scripps was making. They're launching this national sports network. They came out the gate and did a deal with the Vegas Golden Knights that's also an over-the-air deal in the Las Vegas market as well as some other markets. They really showed that this is core to their business; that they really are leaning into sports.
"They've launched an entire division around it. We got to spend a lot of time and become very close with Brian Lawlor, who's the president of Scripps Sports, and who we negotiated this agreement with. They're going to put resources into this and folks on the ground across the country; really emphasizing the growth of these relationships.
"When you count Phoenix, Tucson, and the Salt Lake City markets, you're talking about almost 3 million households. So all of a sudden it becomes a much larger footprint. One of the challenges that we were seeing with the RSN models is that the number of households that they were in was shrinking. That's just really counter to what we were trying to accomplish in terms of having more and more households, more and more viewers, and more and more fans to expose and market and really promote what we've been doing as an organization.
"And then the final thing was their presence here locally with ABC 15 and the CW. You're talking about strong credibility, a real strong amount of resources and people that are here and that have created trust for many, many years in this community. When we're talking about something that's innovative and kind of back to the future, one thing that really excites us is having such a great local partner that can help us get the story out there to help us with this partnership and really amplify it."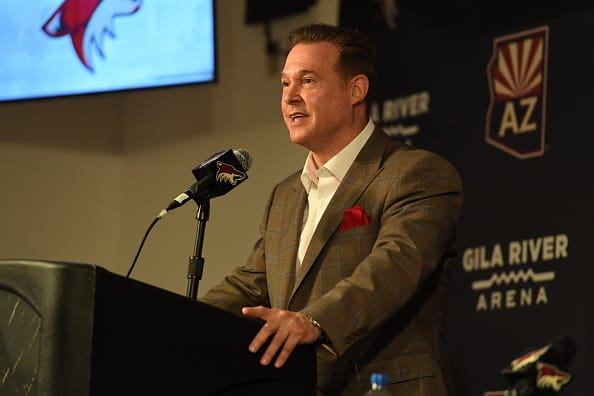 ---
Alex Meruelo mentioned that you will be rolling out a direct-to-consumer platform for fans to stream games across devices. Do you have a timeline for rolling that out?
Gutierrez: "We don't and it's because we're looking at multiple options. There's potential opportunity to do it through the league. We're deciding whether that's better for us, whether it's better to do it ourselves. There's also multiple technology partners out there that have different models in terms of build-out and in terms of cost structure. There's a lot of moving parts and different pricing. I think I've seen seven different pricing models that are in existence and are being thought of. There's some where pricing is built into season-ticket memberships. There are those that are on a per-game basis. That is one of those areas that is really all over the map.
"We're gonna try to make it happen this season. But what's the right pricing? What's the right model to gain good revenue vs. getting as many viewers as possible? That question alone has six different answers. There's a monthly subscription. There's a yearly subscription. There's a per-game subscription. There's attaching it to almost a membership club. There's so many models so it's difficult to assess it all and simultaneously try to get the games up and running like we wanted to."
How did you balance maybe taking a step back in terms of immediate, annual revenue with maybe gaining a wider audience?
Gutierrez: "We took a big picture approach of saying, 'How do we get more viewers to be able to watch our games? How do we get more fans in waiting to be engaged in everything we're doing as an organization from a content perspective?' That was a major premise from Alex. In light of the fast changing media landscape, we knew that RSNs as a model were very challenged, and in this market, it does not exist any more. We were the last team that was part of an RSN in this market. That model didn't work. It's unsustainable. It's based on an ever-shrinking subscriber pool. So with changing consumer habits of streaming, hybrid, app-based viewership, you're having to adapt to those changes.
"So now let's take a big-picture approach. How do we create a relationship in which there are some negotiated financial terms that give us some comfort about proceeding and being sustainable? But in addition, one that gives us an opportunity for growth as we have more engagement, more viewership, better ratings as a team that can drive that and then, of course, can be monetized. That's what's interesting about this model is: Do you want reach that you can then monetize? Or do you want to try to create just a pure financial structure? We explored all those conversations. We had multiple folks that would come to us with different iterations. I think what was exciting for Alex was the opportunity to find a partner that can really give us that reach; a partner with which we could create some shared value that we could both benefit from."
How this is going to look across ABC 15 platforms: Who is going to be involved in content creation?
Gutierrez: "We're the ones creating a production company. We're going to hire and reach out to basically the former Bally's crew; all the technical people, the cameramen. It's going to be its own entity separate from Scripps. Scripps will just be the distribution."
I want to get to some questions from PHNX subscribers, viewers and readers. First, will the games be available in HD?
Gutierrez: "Yes."
Will this deal impact games on NHL Center Ice in any way?
David Proper (NHL executive): "No change to Center Ice."
For those who can't get this channel over the air and don't have the channel on their cable systems, what do they do?

Gutierrez: "I think they're probably going to have to wait for us to do our DTC, but I don't know why they wouldn't be able to get it over the air. As we dicussed earlier, they should be able to and it's pretty simple."
Will ESPN+ blackouts be lifted in this market because the games are free or do broadcast rights still preclude that?
Gutierrez: "ESPN+ will have one game that's exclusive to the national broadcast and I believe that's the Dec. 21 game against the Sharks (it is). Other than that, I think all of the same blackout rules still apply."
How will people with DirecTV and DISH Network watch games?
Gutierrez: "DISH or DirecTV are conversations that Scripps is beginning to have. Typically, they don't carry what I refer to as these almost independent stations, but they also never had live sports like NFL, NBA, NHL games so that's the conversation that is being had at the Scripps level to say, 'We understood why you didn't before, but now things have changed. There's now a shift.'
"This is a market-leading sort of effort and we're at the forefront ourselves with a few other teams that are going down this path. I think it's going to continue to be a trend that those distributors are going to have to adjust themselves to. We think that adjustment is going to happen over the course of this season, by the way. We don't think it's many years down the road. I think they're working on trying to resolve that as soon as possible."
Will there be any way to watch the games on the already existing ABC 15 app?
Gutierrez: "The games will not be available on the ABC 15 app. They do not have the streaming/digital rights."
People in markets such as Flagstaff, Sedona and Prescott have expressecd concern about being able to find the games. What's your response?
Gutierrez: "They will see the games on COX Channel 95, and we believe they have a signal strong enough over the air on ABC channel 15.2."
What is your overall feeling about this deal?
Gutierrez: "I just really want to emphasize that this is actually a good thing. Yes, it's a change. We're going to have to adapt, and we're going to have to adjust, but it really will ensure that more people can see the games and can see the programming. We have a committed partner with a lot of resources that has been here for a long time. This isn't a new operation that just sprung up. It's a credible, stable partner that is very committed to sports and very committed to this community.
"You could sense that they saw the possibilities that are here, not just for the games, not just for the hockey, but for all the stories. Our players are incredible young men who have made a real impact on this community. I think we have a partner that will be able to highlight all that what we do as an organization in terms of stories and content. It's all part of this expansion of the reach and expansion of the brand that we know. It will be very helpful and very much a driver when it comes to revenue growth. We're really excited. We hope that everyone is equally as excited."
Top photo of Xavier Gutierrez via Getty Images
Get Arizona's Best Sports Content In Your Inbox!
Become a smarter Arizona sports fan with the latest game recaps, analysis and exclusive content from PHNX's writers and podcasters!
Just drop your email below!